Hi!! How are you?? I'm hungry!!
I introduce my favorite 3 meat restaurants in Tokyo today.
I have been to many meat restaurants ever, I chose the best 3 restaurants in Tokyo(*´▽`*)
How to eat meat in Japan??
First of all, I explain major ways to eat meat in Japan.
Grill or BBQ style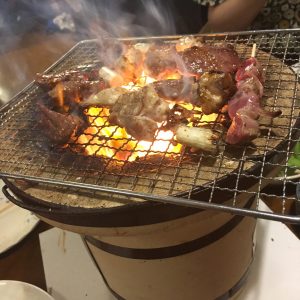 Yakiniku 焼肉
Have you tried Yakiniku?? This is sort of Japanese BBQ.
Grill meat and vegetables by yourself, and then dip them in Yakiniku sauce when they are ready to eat.
All-you-can-eat Yakiniku restaurant is common in Japan.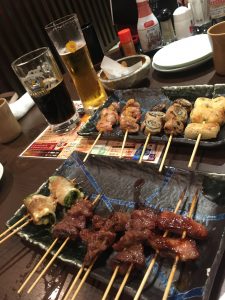 Yakitori 焼き鳥
Yakitori is a Japanese style grilled chicken skewer with salt or tare sauce.
It's bite-sized. You can eat it with beer in many Izakaya.
Hot pot style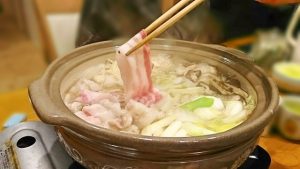 Shabu-shabu しゃぶしゃぶ
Have you heard of shabu-shabu?? This is kind of Japanese hot pot. Shabu-shabu pot is filled with a broth.
Put vegetables, tofu, and mushrooms into this pot and then dip the meat into the pot.
When meat is ready to eat, serve yourself with sauce.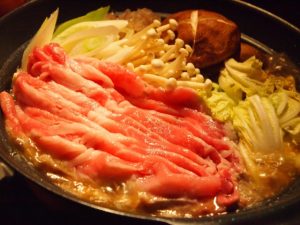 Sukiyaki すき焼き
Sukiyaki is a Japanese beef hot pot made of beef, vegetables, tofu, mushrooms and noodles in a soy sauce based sweet sauce.
When you eat them, a scrambled raw egg is used as the dipping sauce.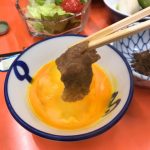 Raw or Aged meat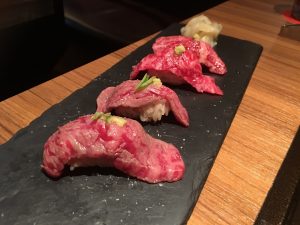 Nikuzushi  肉寿司
We sometimes eat raw meat such as horse and beef.
Basically Sushi is made of seafood, but Nikuzushi is made of raw meat. It is expensive.('Д')
Jukuseiniku  熟成肉
Jukuseiniku is a dry-aged beef. This has been perfectly aged, it's tender and tasty.
Its outside is burned, inside is rare.
Recommended 3 meat restaurants in Tokyo
Namayaki Horumon Motoie Bettei 生焼きホルモン元家 別邸
Address
11-5, Udagawa-cho, Shibuya, Tokyo, Japan
Tell
050-5595-9450
Opening time
17:00~24:00(L.O.23:00)
※Sun/Public Holiday 17:00~22:00(L.O.21:00)Close:Irregular
Price
¥3000~3999
Another place
Nishiarai
This restaurant is a Yakiniku restaurant. I would say it's better to book seats in advance. Meat and internal organs are all fresh. You can grill them for short time. (Please follow restaurant advice.) Yakiniku sauce is nice too. I can never forget this taste, I will go there repeatedly.
Retashabu Dining レタしゃぶダイニング
This is a Shabu-shabu restaurant. You can use your own hot pot and eat meat, vegetables and mushrooms as much as you want. You can choose some all-you-can-eat courses with your favorite broth and sauce, and also all-you-can-drink courses. Desert is also tasty and lovely.
Meat Avantgarde 肉アバンギャルド
Address
2-8-3, Sakumacho, Kanda, Chiyodaku, Tokyo, Japan
Tell
03-3862-4129
Opening time
Mon~Fri
17:00~24:00
(L.O.22:45, Drink L.O.23:30)Sat/Sun/Public Holiday
16:00~23:00
(L.O.21:45, Drink L.O.22:30)12/26~30 16:00~24:00
12/31       16:00~22:00Close:1/1
Price
¥4000~4999
HP
http://meat-avantgarde.com/
This is a aged meat restaurant. I would say it's better to book seats in advance. You can choose the meat part and amount which you want eat. The price is depending on the meat part and amount. You can try Wagyu as well. Try delicious rare meat there.
For meat lovers, I want you try to go these 3 restaurants !! Thanks(*´ω`)
This is Tokyo travel guide.Let's check it up as well♪