Konnichiwa!! I am mi 😛
When you travel abroad, where do you buy souvenirs?? You buy them for your family, friends, lovers, coworkers and yourself, don't you??
When we travel abroad, we usually need to buy many souvenirs for many people.
In supermarket, you can buy various Japanese food and everything we need. When I travel abroad, I often buy a lot of souvenirs in supermarket at the last day of that trip.
I'm going to write about souvenirs that you can buy in supermarket. Moreover, I recommend some souvenirs in pharmacy.
20 Japanese souvenirs you can buy in a Supermarket
To buy souvenirs in supermarket has 2 good points.
You can get
many kinds of things
at the
same place
!!!!
I went to the supermarket "SEIYU 西友", which is one of major supermarket in Japan. You can find it at  every places in all Japan.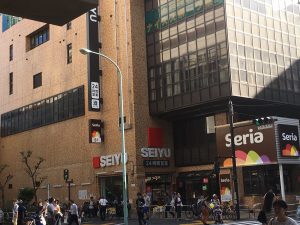 There are many supermarkets such as "Ito Yokado イトーヨーカドー", "EAON イオン" and "Seijoishi 成城石井" in Japan.
Green Tea 緑茶 & Roasted Green Tea ほうじ茶 ¥150〜500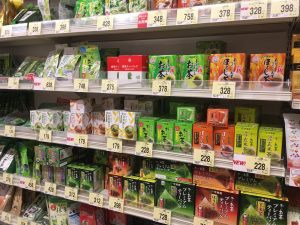 Tea bag is easy to make. That's why this is good for gift.
Snacks お菓子
Senbei (Rice cracker) せんべい ¥150〜500
Senbei goes well with green tea. My grand mother really loves them.haha
The taste is basically salt or soy sauce.
Matcha tasted sweets 抹茶味のお菓子 ¥100〜300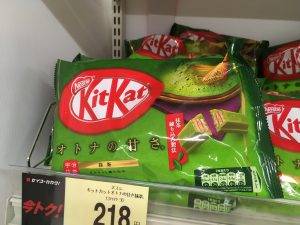 Matcha tasted sweets are popular among Japanese and also foreigners.
Matcha tasted chocolate is very nice. I think this is really good Japanese souvenir.
"Okashi no Machioka おかしのまちおか" is also a nice shop to buy snacks, because there are many kinds of snacks at a reasonable price!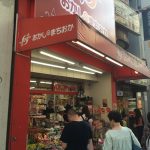 Salad dressing ドレッシング ¥150~300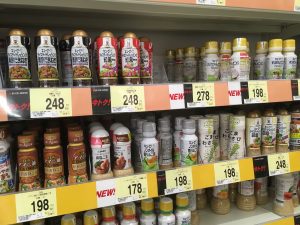 You can find various flavor salad dressings.
Sesami flavor, soy sauce flavor, black vinegar flavor and so on.
My favorite is a black vinegar flavor dressing.
Soy sauce 醤油 ¥100~300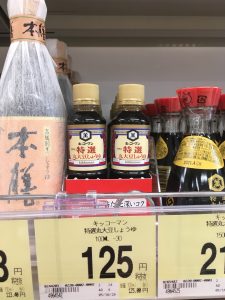 As you know, soy sauce is Japanese basic taste.
We usually use it for cooking, and eat Sushi, Sashimi with soy sause.
There is also small size soy sauce.
Mentsuyu (Noodle soup base)  めんつゆ ¥100~300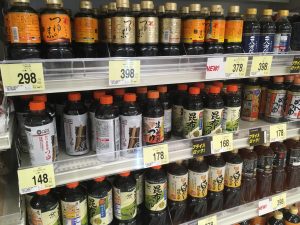 We use it with Soba noodle, Udon noodle and cooking Japanese cuisines.
I often cooked something with Mentsuyu.
This is good for cooking a Japanese taste pasta as well.
Mayonnaise マヨネーズ ¥100~300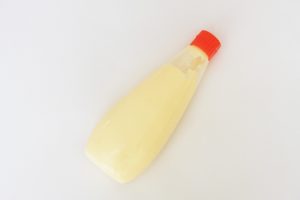 This is good for salad, Karaage(deep fried chicken), Yakisoba(fried noodle), and cooking.
Mayonnaise is made from egg, oil and inegar.
Takoyaki & Okonomiyaki powder and sauce たこやきお好み焼き ¥200~400
If you use these things, you can cook Takoyaki and Okonomiyaki easily! We sometimes hold Takoyaki party or Okonomiyaki party with friend. We cook and eat together.
Miso Soup  味噌汁 ¥80~300
You can make Miso soup very easily and quickly. Some Miso soup packs are very cheap(less then 100 yen). There is also Miso pack, but this is heavy to carry.
Dashi no moto (Japanese soup stock)  だしの素 ¥100~500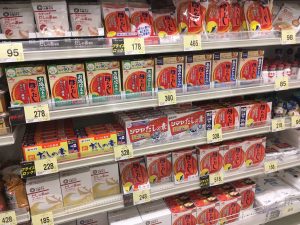 We use it for cooking Japanese cuisines. Soft and deep taste will remind you of Japan.
This is a traditional Japanese seasoning which is made from bonito or kelp.
It takes long time to make Dashi, so Dashi no moto is really useful.
Nabe no moto (Hot pot soup stock) 鍋の素 ¥200~300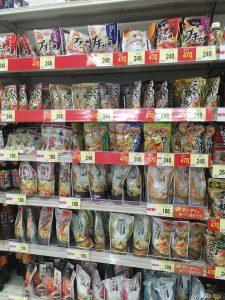 You can make Nabe(Hot pot) easily.
First, you just cut ingredients such as vegetables, meat, Tofu, and mushrooms. Next, you boil Nabe no moto(and water) and put ingredients into hot pot.
We sometimes hold Nabe party with friends as well.
Ochaduke (Rice with green tea soup) お茶漬け ¥100~300
You can make Ochaduke with rice and hot water and Ochaduke stock. This tastes salty green tea.
Furikake (Dried seasoning powder) ふりかけ ¥100~200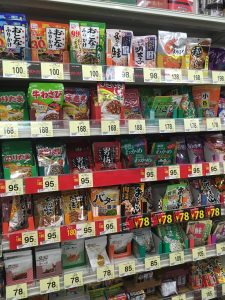 Sprinkle Furikake on rice. Furikake has a lot of flavors.
Pasta sauce パスタソース ¥100~300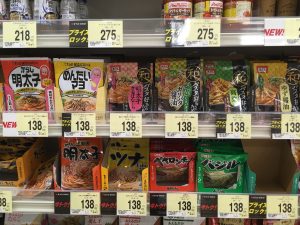 You just mix pasta sauce with pasta noodle.
You can choose basic pasta flavors and Japanese unique flavors.
Heat-and-eat instant Curry レトルトカレー ¥200~300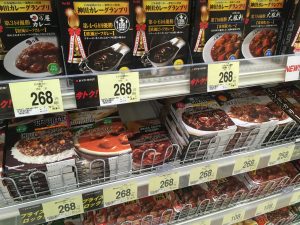 Just boil or heat this curry pack, and then serve with rice.
It's very easy to make Japanese curry rice.
Shichimi  七味  ¥100~200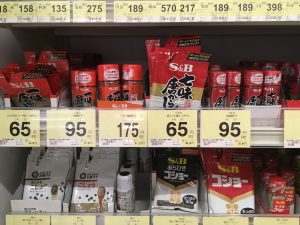 Shichimi is red pepper with seven kinds of spices.
We sprinkle it to Udon, Soba, Donburi(Rice bowl),ex. I recommend it for those who like spicy food.
Wasabi  わさび  ¥100~200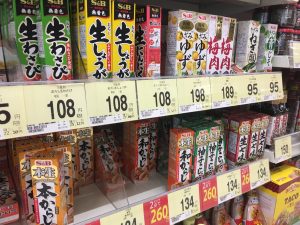 Wasabi is Japanese horseradish. This is so spicy.
This goes well with sushi and sashimi.
Cup Noodle カップヌードル  ¥100~300
You can make it in just 3 min to 5 min. Noodle types are Ramen, Udon, and Soba.
When I have no time to cook, or I don't want to cook something, I often eat a cup noodle.
Dried Soba noodle&Udon noodle乾麺そば うどん ¥200~300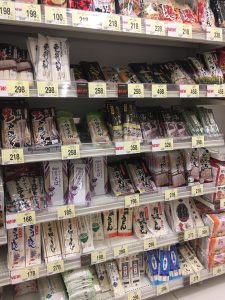 Boil water and put it into the water, and then wait for about 10 min.
Take out the noodle and put it on Mentsuyu.
Ready-to-eat boiled rice pack おかゆパック ¥150~200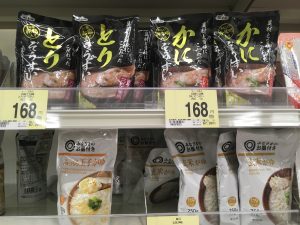 You can eat it instantly.
That's why this is good as a disaster prevention food too.
Boiled rice is good for stomach as well.
Alcohol 酒 ¥100~5000
You can see many kinds of alcohol such as beer, wine, Japanese sake, shochu, and plum wine.
3 useful Japanese medicines you can find in a Pharmacy
I went to a pharmacy "Kokumin".
There are many pharmacy such as "Matsumoto Kiyoshi マツモトキヨシ" and "Sun drug サンドラッグ" in Japan.
Painkiller 鎮痛剤 ¥500~2000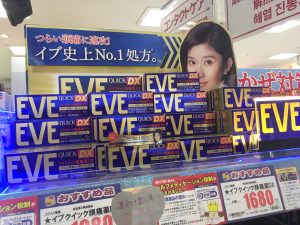 When you have headache, period pain and some pain, it will help you. My favorite painkiller is "EVE".
After eat it, it will work well in about 30 min to 1 hour.
I always bring it to everywhere.
Medicine for the digestion  胃腸薬 ¥500~2000
When your intestine is not working well, intestinal "Shin Biofermin S 新ビオフェルミンS" is good for your intestine.
When you have stomach ache, "Panciron パンシロン" will work well. For example, when you ate too much or drank too much.
"Seirogan セイロガン" is good for both problems.
Medicine for diarrhea 下痢止め ¥800~2000
When you are urgent, this will help you immediately! "Sutoppa Geridome EX ストッパ下痢止めEX" is popular. It is good to have as a charm.
Snacks お菓子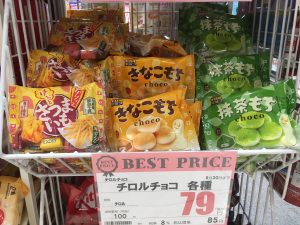 You can buy snacks in a pharmacy as well!
Basically you can buy them at a reasonable price.
I brought these Japanese things to Australia working holiday
Green tea and roasted green tea pack
Senbei
Soy sauce
Dashi no moto
Nabe no moto
Furikake
Shichimi
Wasabi
Miso soup
Pain killer
Medicine for stomach
Medicine for diarrhea
They were necessary for my life in Australia. Sometimes I gave some of them to my foreign fiends. I was happy when they are interested in Japanese things 🙂
Be aware of each country's export restrictions
I think Japanese supermarket is wonderful because I can get all I need, products quality is high, they are not expensive.
Please make sure about export restrictions if you had to come back to overseas.
Thank you for reading(#^^#)