※Written in English & Japanese(英語&日本語)
Hi I'm mi😃
I went to a hotspring Hotel Suichokan(翠蝶館) in Jozankei, Hokkaido. This hotel is for only women who are over 13 years old. No children, no men. This is why there is very clean and quite. Sorry men. haha I introduce this hotel today.
今年の始めに、北海道定山渓の翠蝶館という温泉宿に泊まりました。ここは13歳以上の女性限定で、男性と子供は泊まることができません。だからこそとても綺麗で静かなのでぜひ女性の方にはおすすめします!
Access
Suichokan 翠蝶館
〒061-2303
Nishi3−57,Jozankei Onsen, Minami-ku, Sapporo-shi, Hokkaido
北海道札幌市南区定山渓温泉西3丁目57
tel.011-595-3330
Suichokan is located in Jozankei, Sapporo, Hokkaido. I went there by car, it took about 1 hour from Sapporo city to Suichokan. They have a park.  If you don't have a car, they have a free shuttle bus. (It's necessary to book a seat in advence.)
Jozankei is very famous for hotspring in Hokkaido, and it's easy to go there from Sapporo. When I live in Sapporo, I usually went to Jozankei to enjoy hotsprings.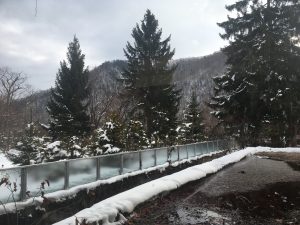 北海道定山渓にある翠蝶館は札幌市内から車で約1時間、車がない方は無料シャトルバスが走っています。(事前予約要)
定山渓はご存知の通り温泉地として有名でたくさんの温泉があります。私が札幌に住んでいた頃には、温泉に入りによく行っていました。
Room
There are not many rooms, just about 20 rooms, and four room types. Asian twin room, Japanese style(Tatami) room, Twin room, and Japanese and Westren room.
I stayed at Japanese and Western room for three people as you can see below. The price was around ¥20,000 per person. Big room, large bed, large wash basin, and toilet. There are puddings and chocolates on the table♡
A beautiful mountain, trees and snow could be seen frrom the window of the room.
部屋数は約20部屋のみで、アジアンツインルーム、畳ルーム、ツインルーム、和洋室の4種類です。
私は家族3名で上の写真の和洋室に泊まりました。一人2万円程度でした。部屋はとても広く、洗面所とトイレも分かれています。ウェルカムスイーツとしてチョコレートとプリンが置いてありました♡
部屋の窓からは、雪が積もった山々が見えて風情がありました。
Public Space
The public space is spacious, quite, and relaxing. You can lie down and read a book, talk with friends, sleep, and have a coffee as much as you want.
I stayed there with my family for a long time and spent a nice relaxed time.
共有スペースはとても広々していて静かです。寝転んで本を読んだり、話したり、寝たり、コーヒーを飲んだり、、、
ここで家族と長時間だらだら過ごしました。
Hot spring
There are two public hot springs in this hotel, but it is connected.(The entrances are different.) When I went there, no one here.
Hot spring's temperature was not too high. It seems so nice when it snows. After taking a bath, my skin was so smooth and moisture. I felt warm and sleepy.
お湯は熱すぎず外が寒かったのと、貸切状態で長居できました。入り口が2つあって、温泉が2つあるのですが、中で繋がっていたのでどちらも行き来できました。
雪が降っていれば一層最高だったと思います。温泉から出たら肌はつるつるで体がとても温まっていました。すぐにでも寝れました、、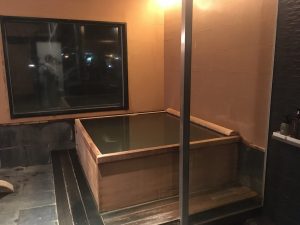 This hotel has two more private bathtubs. It's not necessary to book in advance. When it's available, anyone can use it. I have come here twice.
大きな温泉の他に貸し切り風呂が2つあります。こちらは予約せずに誰も使っていなければすぐに入ることができます。今回のステイで2回ここに来ました笑
Massage and Beauty treatment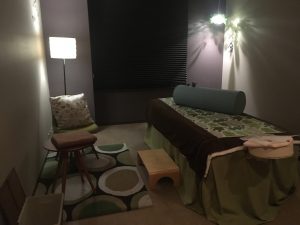 You can get a massage and beauty treatment in a private room as well. It is not cheap, but might be great time.
I got 90min body and head massage(¥9,000+tax) from 10p.m. It was really really good.
マッサージやアロマトリートメントを専用の個室で受けることもできます。安くはないですがたまには👍ですね。私は夜の10時から90分の全身マッサージ9千円のコースを受けました。気持ちよすぎて幸せでした。
Dinner
Dinner was dainty and healthy. Vegetables, meat, seafood and dessert. I liked this, except it was not enough for me.haha
ディナー付きのプランにしました。温泉の後の高級料理は最高でした。繊細かつ健康的でどれも美味しかったのですが、私には量が足りなかったです笑
Breakfast
Breakfast was salad, soup, sausages, quiche and bread. Bread and drinks are buffet style.
After eating breakfast, I took a bath again.
朝食はサラダ、スープ、ソーセージ、キッシュ、パンでした。パンとドリンクはビュッフェスタイルです。
朝食を食べた後、朝風呂に入って締めました。
Service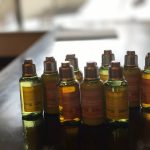 Shampoo, conditioner, and shower gel set was comprementaly. I got L'occitane's. There were 3 types of brand to choose from.
シャンプー、リンス、ボディソープのセットを3種類のブランドの中から選んで持って帰ることができました。私はロクシタンにしました。女性が喜ぶポイントだと思います。
Conclusion
Due to only women, there is so clean and quiet. You don't need to care about men.
The only one thing that made me inconvenience was the receptionist was only one person during night. That is why sometimes no one took a call from a room.
Ecxept the above, I really had a relaxing and great time in this hotel. This is a nice hotel.
女性だけの宿ということで、とても綺麗で落ち着いていた雰囲気のホテルです。男性の目を気にする必要もなくくつろぐことができました。
ただ、部屋数が少ないだけあって夜の時間帯はフロントの方が一人しかおられなかったようで内線が通じないということがありました。
その点を除けば完璧で、とてもリフレッシュすることができました。(そんなに疲れてないけど笑)女性の方にはぜひおすすめです♡