Heyyyy it's mi・ω・
I have been to Shibuya Scramble Square which has 47 floors and a rooftop!! This building opened on 1st Novenber, 2019. There are many shops, restaurants, and also sky deck "Shibuya Sky". It's easy to reach there by train. Today I write about Shibuya Scramble Square and Shibuya Sky.
Information of Shibuya Scramble Square
Shibuya Scramble Square is nearby Shibuya station. You can take train or subway to Shibuya staiton and then walk forwards Shibuya Hikarie. It takes just 1~3 min to Shibuya Scramble Sqare from Shibuya station by walk.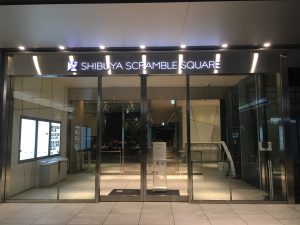 The building is new and beautiful. I could reach there easily even I have bad sense of direction. There are a lot of people inside.
There are over 200 shops in Shibuya Scramble Square such as cosmetic shops, jewelry shops, cloth shops, brand shops, shoes shops, sweets shops, cafes, and restaurants. You can enjoy shopping and eating there.
This is Shibuya Scramble Square's website.
Dinner at Spanish restaurant♪
I went to a Spanish restaurant "La Coquina" to eat dinner on the 13th floor. When I entered this restaurant, the staff said to me "Hola!!".haha They were very kind and smile all the time.
I ordered Belgian beer, omlet, paella, sausage, salad with smoked salmon, oyster, and cheese cake with my friend. They were sooo tasty(*´ω`*) I ate a lot, but they were not too expensive, then I paid about 3,000 JPY.
Beautiful View from Shibuya Sky
The entrance is on the 14th floor. The price of the admission ticket is 2,000 JPY, but if you buy it on the website, it will be 1,800 JPY. You have to choose the time to entry (every 20 min), that is why the number of people who can go there at the same time will be limited. There is not crowded on the sky deck. After entry, you go to the sky deck by the elevater.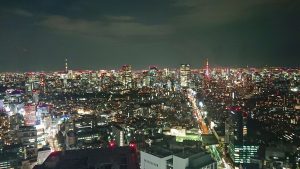 I could see a beautiful night view from Shibuya Sky like this picture. You can see both of Tokyo sky tree and Tokyo tower.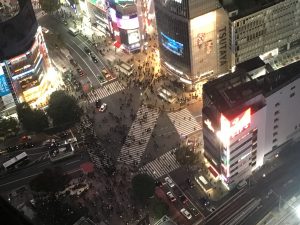 I saw Shibuya scramble crossing as well. It's really interesting to watch lots of people walking there.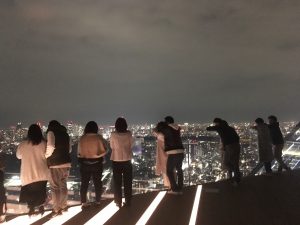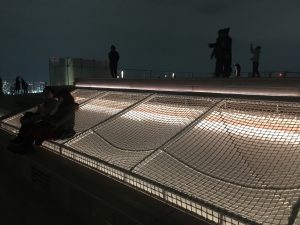 There is hammock. I took a rest on this hammock.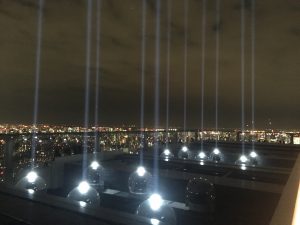 This is a light-up performance. The light were moving in various directions.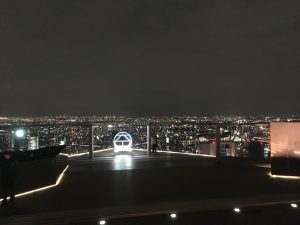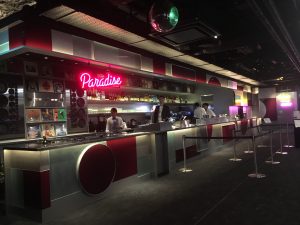 There is a bar inside of Shibuya Sky. It seems expensive.
Totally I was satisfied with Shibuya Scramble Square!! I would recommend this place to Japanese who haven't been there and foreigners. Let's go to Shibuya Scramble Square and Shibuya Sky\(^o^)/
See you again ~~ 😀 mi 😆